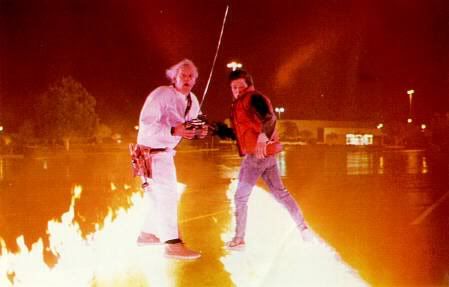 What do Marty McFly, Bill and Ted and Claire Randall have in common?  They travel through time.  They work to try and change events in the past, but also influence the future.  I have some news for you–you are also a time traveler.  One of the main components of marketing is working with the concept of time.  And it is time to start your marketing plan for 2012. Yep, now.  Even though 4th quarter is just underway, you need to start planning for the next steps.  Now is a good time to ask the 3 basic questions that must be addressed in every marketing plan.
What Did You Do?
Step 1. Evaluate. Figure out where you are.  Sometimes it doesn't take very long.  Bill and Ted determined they were in the various era's, almost immediately. Simply what marketing efforts did you do last year?  Categorize things in buckets, like advertising (radio, print), public relations/community support, sponsorships, social media, website, catalogs, tradeshows, etc.  Figure them out, categorize it, look at the expenses.  This is where a marketer needs to be on good terms with the person in charge of the checkbook. You need to know the big picture numbers.  Do they surprise you?
What Does It Mean?
Step 2. Analyze. Now that you have the buckets marketing determined, connect the dots to the next step.  Which marketing programs generated the most revenue.  Have you been tracking your campaigns?  Are you looking at your monthly analytics?  What conclusions are you drawing?  Figure out and document the true cost of every effort; remember there is not only what you pay to vendors, but your time involved.  Marty McFly needed to spend a week in 1955 figuring out how he made sense in two time eras. If you spend 5 minutes on something that nets at $20K sale, it is a huge ROI generator.  If you create a sales flyer that takes 8 hours of time and only generates a $500 sale, it probably isn't worth repeating.  Maybe you can secure reduced advertising rates by committing to certain publications now.  Explore all of the free ways you can generate marketing buzz within your industry and online.  Review every free avenue and look at your time sheet to put a dollar figure to your efforts.
How Do You Improve?
Step 3. Set Goals. This is where you do your best to predict the future and influence outcomes.  In the Outlander book series, Claire Randall tries to influence people to prevent bad things from happening and change the course of history and her future.  In the same way, savvy marketers look at the past, not as a mirror but as a guidebook of known strategies and conclusions on what works and what doesn't to generate future sales. How do you want to improve sales? Maybe you can generate sales online by improving your website design?  Maybe it is time to start social media or mobile marketing?  Leave some funds aside for opportunities that present themselves as the year goes on.
A campaign is a solo effort and should not be a predictor of the strength of a marketing plan, program or personnel. A marketing plan is investing in a long-term strategy that will have elements of risk.
Some things you can't predict–I don't know if the stock market will be a bull or a bear in 2012, but that really doesn't matter.  I can look at where I am, figure out how it influences sales and then work to increase that revenue in 2012.  Creating a marketing plan takes time, it isn't usually done in a week.  If you need further help, let us know.  If you can create a marketing plan in October, revise it during November and do the prep work in December, you will be able to hit the ground running in 2012–that is an easy prediction!  Excellent!
Image by race_boy_9